Like many before them, our family moved to Oregon in the early twentieth century to build a new life. Farming opportunities were abundant, and after years of moving around the state we settled just south of the old Methodist Mission in 1958.
Don and Rosalie Weathers grew a family of eight there, along with rye grass, hazelnuts, and hops. The early farm was relatively small, and trees and stumps still had to be cleared before fields could be planted.
They were natural hops farmers; it was in their blood. Rosalie's father had been a hops broker and provided guidance and connections to the early farm. And the extended family was also involved in growing, harvesting, selling and shipping hops. Later on, fifteen cousins would work together all summer long to produce a good harvest.
The family was involved in many other aspects of the industry, from producing twine and selling specialty machinery parts to serving on commissions and supporting scientific research. This diversification was a major source of stability and quality control.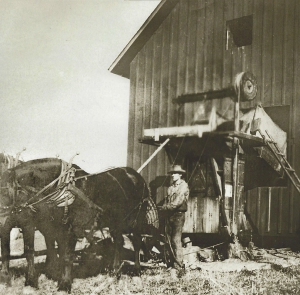 In 1983, Doug and his wife Audrey founded Sodbuster Farms and assumed responsibility for much of the family farm. Together they've weathered changes in the brewing industry by focusing on the quality of their product, sustainable business practices, and close connections with brewers. Doug and Audrey are proud to be grower-owners of Yakima Chief-Hopunion LLC.
Today four generations of the family can be found on the farm. We're proud that our family is part of the great history of hops cultivation in the Willamette Valley, and look forward to providing hops for your favorite brews for generations to come.